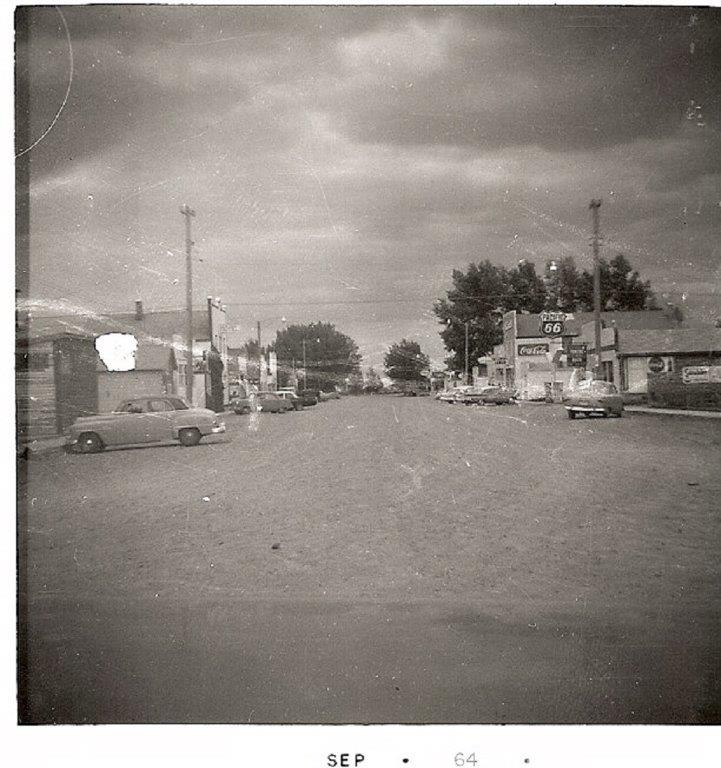 The information for the early history of Burstall was derived from recollections of our senior citizens. There will undoubtedly be errors and contradictions as to the accuracy of this history as all records were destroyed in the fire of 1925 but it is felt that the information supplied by the sources is reasonably accurate.
---
Land for the village site was obtained from Dave Helmer. The original owner of this land was Joseph Kuntz. Burstall was incorporated as a village on May 31, 1921 and was named after General Burstall. On November 1, 1966 Burstall was incorporated as a town.

Lieutenant-General Sir Henry Edward Burstall was born in Quebec City and received his education at Bishops College, Lennoxville and the Royal Military College at Kingston. He was commissioned in the Royal Canadian Artillery in 1892 and served in South Africa first with the Canadian Contingent and later with the South African Constabulary. During World War One, Burstall served as Brigadier-General in command of Artillery, First Canadian Division, 1914-1915; General Officer commanding the Royal Canadian Artillery, 1915-1916; and General Officer commanding the Second Canadian Division, 1916-1918. Burstall was knighted in 1918.

With the building of the village, merchants began arriving and setting up shops. Some of the first merchants were Willence Ludwig and his son-in-law Nat. They moved their building from Estuary, and located it on the west side of the CPR track. Upon hearing that the CPR station would be situated on the east side of the track, they moved their building to its present location. Nat Ludwig took over the store and with his wife Lil, operated it until 1944 when they sold out to Fred Stach and moved to Saskatoon.

In 1946, Fred Stach sold to John P. Wittig and Ed Deutscher, who then operated this business under the name of W and D Store. In 1952, John sold his interest to Ed Deutscher and Ed and his wife, Irene, operated in this building until 1955 when the groceries and stock were relocated in the pool room building operated by Flug and Horst. The Deutschers expanded their store in 1967 and again in 1971. They sold it to Albert and Tillie Klaudt in 1975. Jim Steinke purchased this business in 1978, then sold to Keith Knight in 1979. At present it is owned by Don and Torchie Moore and is known as Budget Groceries.

Dan Moench operated Schmidt Post Office and general store six miles east of Burstall. Upon arrival of other businesses in Burstall in 1920, he decided to move his building and stock into the village. The building was 24′ x 56′ and is now part of Budget Groceries. In the fall of 1921, Max Ghitterman, being a veteran of World War One had priority over Moench and became the postmaster. He had a small building on the south side of the main street across from the now Burstall Hilton Hotel where he sold small wares. The building, which also housed the post office, burned in the fire of 1925. Max then relocated in the Max Rabinovitch store on Railway Avenue. Early in 1926, the John G. RiehIs purchased the Tingley real estate office in which they operated the post office for 43 years. This building still stands and was part of Mrs. Riehl's home, which has since been sold. John and Elsie Riehl retired and Ann Lippert became the postmistress in 1966. A new post office, situated east of Burstall Motors on Lot 3 was opened in the fall of 1968. Sharon Getz took over the job of postmistress in 1976, Trudy Brown in 1979, and Loma Schlepp in June of 1980. Mari Taylor is the current postmistress.

In 1923, thinking there were too many stores in Burstall, Dan Moench depleted his stock and moved to Hilda. In 1926, Alex Schick and Alex May opened the building and operated it as a pool room and barbershop. May later sold his interests to Schick, who in 1954 sold to Fred Flug and Elroy Horst. In 1955, the contents of the pool room were relocated in the former Deutscher store. In 1957, Flug and Horst sold the building and business to Moser of Brooks, Alberta. In 1958, Gottfried Kelln purchased this business from Moser and added a three lane bowling alley. In 1972, he sold to Bob Davy who also operated a barbershop in this building. This business was closed in 1975 and the contents were sold. The building was purchased by Andre Arjropulos and used for storage. The building has since been torn down and it is now the site of the new Burstall Credit Union. There was also a pool hall next to Schneider's Store on Railway Avenue which closed it's doors in 1926.

Alex May, upon selling his interests in the pool room and barbershop to Alex Schick, opened a barbershop, two lots west of the Schick's Hardware (now part of Becker's Mini Mall). He sold the business and building to Conrad Schultz in 1941. John D. Riehl rented this building from Schultz and continued in the barbering business. Schultz sold the building to Alex Dieterle who made his home there until moving to Medicine Hat. The building has now been dismantled and a storage building for Lynda's Pizza stands on this site.

George Schneider and son Dave moved their building into Burstall from Estuary in 1921 and opened a butcher shop and grocery store on Railway Avenue. Dave Schneider took over from his dad and operated this store until his own son Albert was old enough to become a partner. Albert then ran this business until 1965 when he sold to Frank and Martha Wolf. Frank added living quarters to the store and purchased the old Municipal office which was to contain the liquor outlet and Simpson Sears order outlet. The Wolfs sold to E. J. Farming Limited and the store was operated by Doug and Pat Howes who reconstructed the former municipal building into a butcher shop. A fire on January 2, 1980, destroyed the entire stock, home and building. A new grocery store was erected on the site and a short while later was converted into three rental suites, a Sears order office and a liquor outlet.

In the fall of 1980, Henry Stickelmier purchased the business which was operated by his daughter Sandra under the name H. & S. Variety. The butcher shop was remodeled into a beauty salon and was operated by Henry's older daughter, Rita. The business was purchased in 1998 by Greg Bueckert of Medicine Hat and renamed The Trading Post. It is now owned by Tim and Cindy Gamble of Burstall and is called the Millenium Multi Mart.

Max Rabinovitch constructed a grocery store and clothing store on the corner, south of Schneider's store on Railway Ave. He operated here until 1940, when the stock was depleted and the building torn down. The lot has been vacant to the present day.

Winograd and Krasnoff built a general store on the south side of Martin Street, about where Becker's Mini Mall is now located. With so many stores in Burstall and the village of Hilda being started, they moved their business to Hilda in 1924. Their building in Burstall was left vacant and was destroyed in the 1925 fire.

Rabiner and Pearlman also opened a store on the north side of Martin Street where the former Burstall Electric is located. Bill Keller had a hardware and implement agency next to them. In 1923, Jacob Wenz, Adam Wolfer and Bill Keller bought out Rabiner and Pearlman. Jacob and Adam bought out Keller in 1924 and the store was then known as Wenz and Wolfer. In 1928, Wenz sold his share to his brother Andrew. The store was closed during the depression of the 1930's. The building was demolished in the summer of 1940 or 41 and Emil and Sam Schmitt bought the lot in 1946 and constructed a garage.

George Ressler purchased the business in 1948 and sold to Christ Schlaht in 1949 who owned and operated a business known as Burstall Electric until his retirement.

In a disastrous fire on July 17, 1925, which was believed to have started in the jail section of the Municipal office located next to Schneider's store, all the businesses on the south side and east of the lane where Burstall Farm Sales and Service was located on Martin Street, were destroyed by fire with the exception of a small building owned by a lawyer, G.R. Tingley. F.W. Karlenzig managed a real estate and insurance business from this building until 1926 when the post office was relocated here. The businesses which were ravaged by fire were; a pool room which had been built by E. Hulse who also operated a barbershop, the Municipal Office, Post Office, a laundry and a building which housed a cafe and store owned by Joe Woo.

A second eating establishment, the London Cafe, owned and operated by Q.J. Wak (Que) was situated where the community hall is located today. On August 2, 1927, the Village council granted a license to the London Cafe for permission to employ women to wait on tables. The London Cafe was in operation until 1944 when the contents were auctioned and the building was purchased by John Hauck and dismantled.

Some of the first blacksmiths were Fred Dobb (Dobberstein), Wm. Lippert and Reinhart Schultz (1920). Adolf Bauer of Estuary, purchased the blacksmith business from R. Schultz in 1928 and operated it until his death in the early 1940's. Fred Dobb closed his business and moved away, while Wm. Lippert operated his blacksmith shop until 1929 when he sold to Rudolph Zinn. In 1943, Bob Makus took over from Zinn and operated his business until 1951 when he moved to Medicine Hat and rented to Busse who left in 1955. The building was then sold and dismantled. Another blacksmith to be remembered was John Lautt who also did chiropractic work for the local people whenever the need arose.

There were hitching posts in front of every business place in town, to which horses could be tied. The first livery barn was run by George Schmidt who also operated the first dray service. Schmidt later sold his business to Bill Leuth.

The first garage, owned by John Schlotthauer, was built in 1919. It was located across the street from where the carwash is now situated. John Wenz and Oswald Schneider purchased this business in 1923 and in 1926 they built the garage which still stands today across from Budget Groceries. Schneider sold his share of the partnership to John Wenz and in 1933 Wenz sold to Mike Hermann. Gottlieb Albrecht bought this garage in 1944 and sold it in 1947 to Christ Wagner. Wagner sold to Harvey Jesske; Jesske sold to Ted Seifert who in turn sold to Terry Billingsley. At present, the building is vacant.

The garage that Stewart May recently owned, was built by Fred Ehnisz in 1929 who also held the Pontiac dealership. Ehnisz sold to Alex May in 1940 and in 1948, Alex's sons, Alvin and Herb took over the business. Alvin sold his share to Herb in 1954 who still operates Burstall Motors and has the Dodge and Chrysler dealership.

Massey Harris Garage, built by Louie Heim, later purchased by Max Specht and then by Gottfried Kelln who also used it for welding. Fred Roth then purchased the building and operated it as a garage. It was sold to Al Pelkey and later to Jim Opp who used it to rebuild cars. It was sold to the R.M. and used for a storage shed and then finally sold to Manny Roth who moved it to his farm. The original location is now the site of the R.M. office.

Fred Ehnisz and Martin Schauer erected a building where the Chinook Library now stands and had an implement dealership. Ehnisz and Schauer went out of business and A.J. Toudy then operated a beer and wine outlet in the building. With a change in government in 1930, Bert Rose took over until 1934. New government legislation in 1934 allowed a beer parlor for men and the beer and wine outlet was closed. In 1940. Christ Waqner purchased the buildinq and opened a grocery store. He sold to Otto Fischbach and Henry Winter in 1947. Henry sold his share of the partnership to Otto in 1951. Otto operated the store until 1956 when he sold his stock and left the building vacant. Herb May purchased the building in 1958 and the Bank of Montreal then rented the premises from him. The bank was then open two days a week with its main branch in Fox Valley. The building and site were later purchased by the Bank and the building was demolished and a portable unit was moved onto the site. The Bank of Montreal closed its doors on December 3, 1982.

In 1927, Ghitterman opened a novelty and a small wares shop in the Rabinovitch building. In 1929, he constructed his own shop where Barb Becker Insurance now stands.

A.J. Stokes moved his building (Mayflower Cafe at present) in from Estuary and started a hardware store. In 1913 he purchased the Ghitterman building into which he moved his stock. After Mr. Stoke's untimely death, a trust company sent in a manager and the store remained open until 1943 when the stock was auctioned and the building was purchased by the shareholders of the newly formed Burstall Community Co-operative Association.

The original Stokes Hardware building was bought by Jacob Hahn in 1938 and his sons, Arnold and Ernest opened a grocery store in 1939. The Hahn brothers sold it to the Bauer brothers, Fred and Charlie in 1948. They operated the store until 1954 when they moved their stock to a store in Estuary and sold the building to C.C. Schlaht. Sam and Pearl Becker purchased this building from Schlaht, remodelled the building and opened a cafe, operating it until 1969, when they sold the business to Bob and Lena Eng. The Engs' sold to Eunice Tsang and Irene Woo in 1981, who in turn sold it to Jackie Jassman. Jackie operated her café until the year 1999 when she sold the business to Gary Scory and Barb Johnson who presently operate Gary's Place.

In 1927, the Yip brothers of Shaunavon built a hotel and cafe on the west side of Schick's Hardware. They sold to John Wallawein in the late fifties. Wallawein sold to Nick latrides, who in turn sold to Carmen McLenaghan in 1978. The building and contents were auctioned in 1980 with Eugene Bishoff buying the building and dismantling it. In 1981 Bishoff erected a building and sold it to Fred Mertin in 1982. They operated Mertin's 10-4 Pizza for a number of years and later sold it to Lynda Bengtson who presently operated it as Lynda's Pizza.

The former Burstall Lumber, owned by Larry Constable was the first bank, "The Standard Bank". The first manager was J.D. Duguid. In the thirties, the bank closed and A.J. Toudy opened a hardware business in this building. In 1944, he sold the business to Jack Geigle and Albert Schick and in 1946 Geigle and Schick bought the community hall, (the former A.J. Stokes hardware) and moved their hardware business into the building. This business is owned by Barb Becker Insurance, our present S.G.I. agent.

Jacob Ruff bought the former Standard Bank building and renovated it for living quarters. The Ruff family resided here for a number of years, later selling the building to Philip Wolfe, and again with much renovating, the lumber business was resumed in Burstall. Wolfe sold this busines to Larry Constable who operated under the name "Burstall Lumber" for a number of years. The building has since been demolishes and is the present site of The Burstall Motel Ltd.

In the early years coal and wood were the only means of heat so there were a few coal dealers in the village. On the north side of the first elevator and the south side of the last elevator were coal sheds, built as close as possible to the railroad so that the coal could be unloaded from the rail cars. They started to fill these sheds in July and August. Each householder needed about 10 to 20 tons of coal for the winter, depending on the size of the house. Coal in those days sold for $3.50 to $5.00 a ton, depending on the quality of the coal. The suppliers for coal were the lumberyards and a few grain companies.

There were three large lumber companies in Burstall in the 30's. These were Beaver Lumber, Revelstoke and Pioneer. Jacob Koch was transferred from Estuary to run Beaver Lumber when it opened in Burstall. In the depression years business dropped and only the Beaver Lumber Company survived. It covered three or four lots which included a big building for storing lumber and was located on Lots 15, 16 and 17, Langley Street.

A small drug store operated by Dr. A. E. Jutras was situated where the King George Hotel now stands. In 1924, Dr. Fisher took over the practice and in 1927 Dr. Fisher purchased lots 16 and 17 from the Village (former residence of John Schlepp Sr.) and constructed a building which housed an examining room and drug store in the front and living quarters at the back. The original drug store was remodeled to include living quarters and a watch repair business which was run by Fred Zeitner. Next to the drug store was a butcher shop operated by Blehm and later by the Ressler family. In 1934, both buildings (drug store and butcher shop) were removed and the King George Hotel was built on this property by Alex Schick and John Wenz. In 1945, the Hotel was sold to George Schultz. Other owners of this business were Bill Rolick. Bill Leipert, Clark Jacobson, John Sept, Marvin Sulz. Bob Davy, C.R. Holdings, John Hoff, and presently, Jerry Hensel.

The first Imperial Oil Bulk agent was J.W. Doyle. Others to follow in the business were Fred Ehnisz, Alex May, Herb May and Ken May. This business was closed in the fall of 1981. Other bulk petroleum agencies were Prairie City and British American Oil. A.J. Toudy was the agent for B.A. Bulk Sales. In 1944, Toudy sold this business to Albert Schick and Jack Geigle. This business was closed in the fall of 1973, at which time Albert Schick was the agent.

Shoe and harness repairs were done by such handy men as Henry Schmidt, Ludwig Helm, Herman Zinn and Fred Flug. Flug operated his business and lived in a small building next to the former Municipal office.

A Singer Sewing Machine Shop was located on Martin Street where the Budget Grocery store is today. Henry Schmunk sold and repaired machines in his shop. He also sold gramophones.

A fire bell was erected in 1925 or 1926. This was also used as a curfew bell, which meant every child up to 16 years of age had to be off the streets by nine p.m. It was situated east of Herb May's garage about where our present Post Office now stands. A small jail house was also built at this location in 1930, it was used on a few occasions. This jail was moved to the corner of the old school yard in 1949 and was used as a pump house and storage for fire equipment.

Tract for scavenging and doing general police work for $12.00 a month. In 1928, Rhinehart Hilderman was engaged as village constable and scavenger for the sum of $20.00 per month. Others hired as village police officers were John "Roosa", John Wolfer and Alex Filbert. Policing costs have escalated since Burstall's incorporation as a Town in 1976. Before this the costs of policing were borne by the province. The town must now pay to have 20 hours of policing a week by the R.C.M.P. This cost has gone from $7,250.00 to $16,400.00 in 1982.

On August 6, 1959 a request was made by the village for a vote of the electors of the village on the question of licensing beverage rooms and cocktail rooms. The vote was held and the majority were in favor of the licensing, Another vote was held in November of 1967 whether to allow a special Liquor Vendor in the village. Again the public was in favor.

The town's present waste disposal site was purchased in 1961 from Jacob Stickelmier. This area covers 9.87 acres (300'x 1,400). The town purchased a 1972 Dodge garbage truck in 1980, and the job of scavenging is contracted.

A fire hall was built in 1973 by Ray Graham and Cliff Dieterle at a cost of $9,968.00. In 1974, a 1941 International fire truck was purchased for $4,050.00 and a, second fire truck, a 1961 Ford was purchased in 1982 for $20,000.00. The most recent fire truck, purchased in the year 2000, cost considerably more than that.

Burstall's water source in the early days came from five wells located in the village. Most people also had cisterns under their homes as the wells could not produce an adequate amount of water. Bylaws were passed by the village stating that only certain wells could be used for watering livestock. There always seemed to be a shortage of water during the summer months; pump handles would be removed from nine in the evening to six in the morning so no one could sneak the odd pail. But sneak they did, as the boards used as well covers were removed and a pail was lowered for a few drops of water. Lineups at the wells could be seen in the morning, with many going home with the bottoms of their pails barely covered with water. On August 26, 1963 the village applied to the Local Government Board to borrow $16,000 for the start of the sewage systems. On June 8, 1964 the village bought 14 acres of land from Reinhold Wagner for the Lagoon site. Debentures were issued for the water works system and Pacific Petroleums agreed to supply water to Burstall. The supply line was constructed from the plant to the village, and the necessary pumps were installed at the Plant in the fall of 1964. In October of 1966 the full purchase price of $76,797.50 for the four inch waterline was paid by the Village to Pacific Petroleums. In 1975, additional Lagoon property of 10.5 acres (400'x 1,100′) was purchased for $125 per acre. Water and sewer rates in 1982 were $7.50 and $4.50 respectively compared to $6.50 and $3.50 in 1964.

On October 23, 1963 Pacific Petroleums confirmed the location of 25 homes in Burstall. Land (660) was purchased from Louie L. Job for $2,425.00 and a portion of this land was then transferred to Pacific Petroleums at no charge for the construction of these homes. In 1977, 330 feet of land was purchased from Jacob Job at a cost of $13,500.00.

On September 3, 1940 a resolution was passed by the Village council to establish and join a Union Hospital District. The hospital would be located in Leader. A resolution was also passed to assess Dr. Naimark a $10.00 licence to carry on a business as a dentist. In May of 1960, the Village council agreed to the Leader Union Hospital District constructing a new 34 bed hospital at Leader at an estimated cost of $325,000.00. The Town became a member of the first Western Senior Citizen's Home in 1962 for a sum of $635.00 and in 1977 became members of the new home in Leader at a cost of $4,180.00. In 1982, the Town joined the Leader Municipal Road Ambulance District.

A meeting was held to discuss the possibility of installing an electrical system in the village on June 29, 1939. A franchise agreement was signed with Andrew Leidel on January 4, 1940 authorizing Leidel to install such a system in the village. Leidel sold his interests to Max Specht, who assigned his Lighting Plant Franchise to C.C. Schlaht in the fall of 1942. Christ Schlaht supplied the village with power until 1956 when Saskatchewan Power Corporation purchased his franchise. On April 4, 1956 the Village council authorized the Sask Power Corporation to proceed with the installation of an electrical distribution system in the Village. On April 18, 1960 the village approved the construction of a natural gas border station on the SW-1-20-29-W3M for Sask Power, and Burstall was supplied with natural gas.
---
The town of Burstall has undergone a great many changes since this history was last updated. This may be brought up to date as time goes on.
The book Treasured Memories, from which this history is taken still available at the Town Office in Burstall.